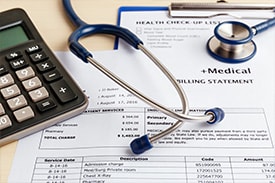 Medical Coder/Biller (ATD)
---
Program Length:
1110 hours (approximately 10 months – full time)
Program Offered:
August
Delivery Method:
Traditional – 100% classroom based
Hybrid – less that 50% of required instructional hours available via distance education (online)
Days & Times:
Monday – Friday     7:30 a.m. – 2:15 p.m.
Blended Distance (with mandatory on-campus days):
Distance – Wednesday, Thursday, Friday
On-campus Days – Monday, Tuesday    7:30 a.m. – 2:15 p.m.
Note:  Clinical externship hours may vary.
Course Content:
Students are taught the skills and knowledge necessary for employment as entry-level coder/billers. The main role of a medical coder/biller is to review patient medical records and assign codes to diagnoses and procedures performed by healthcare providers so that the treating medical facility can bill insurance companies for reimbursement.  The medical coder/biller is responsible for the accurate flow of medical information and patient data between physicians, patients and third-party payers.  Most medical coder/billers work on-site in hospitals, clinics, physician offices and for insurance companies.  With the introduction of the electronic health record (EHR), experienced medical coders may have opportunities to work from home.  Upon successful completion of this program, students will earn an Applied Technology Diploma (ATD)
Additional Skills Covered:
Anatomy & Physiology
Bloodborne Diseases HIV/AIDS, HBV
Coding Skills
Communication & Interpersonal Skills
Computer Literacy & Keyboarding Skills
Employability Skills
Health Information Technology
HIPAA, Legal & Ethical Responsibilities
Infection Control Procedures
Knowledge of the Health Care Delivery System
Math & Science Skills
Medical Billing
Medical Errors
Medical Record Science
Medical Terminology
Pharmacology
Safety and Security Procedures
Wellness & Disease Concepts
IMPORTANT NOTES REGARDING REGISTRATION:
Registration processes for Health Science classes vary by program. For information specific to the Medical Coder/Biller program, please e-mail the counselor at 

[email protected]

Students enrolling in any Health Science Education program must attend a Health Science program orientation on campus.  At that time, information about the required Level II criminal background check and drug screening, per The Joint Commission, will be fully explained. Students who do not have a valid social security number may encounter difficulty with certain state licensing agencies and registries. Contact the program counselor for specific information.
Special Note:
Standard High School or State Awarded High School diploma is required.
Industry Certification Exam & State Credential:
Students will be prepared to take an approved state and/or nationally recognized industry certification or licensure exam in their field of study.
College Credit Transfer Opportunity and/or Advanced Standing:
Upon completion of the program and meeting eligibility requirements, including the attainment of an aligned industry certification, students may be awarded credits toward an Associate Degree by Broward College or the Florida College System. Students must enroll within two (2) years of completing the program at Atlantic Technical College. Additional college credit may be awarded with the attainment of additional industry certifications..
To get started in the Medical Coder Program, sign up today for a program orientation!
Job Outlook in the South Florida Tri-County Area:
According to the Florida Department of Economic Opportunity, the current South Florida Tri-County entry annual salary for Legal Medical Coder/Biller positions is approximately $29,800.  Actual wages may vary according to education, certifications, and experience.