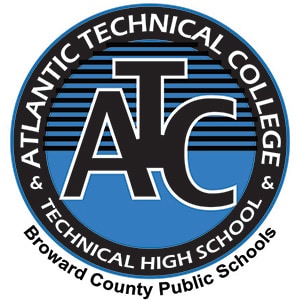 Career Dual Enrollment
Earn your high school diploma, obtain an industry credential or license, and earn articulated college credit all while in high school. Atlantic Technical College (ATC) can help you meet these goals and prepare you for your future. As a Career Dual Enrolled (CDE) student, you will share your day between ATC and your home high school. This means you will be able to complete an industry approved, high-skill, high-wage technical program while you are completing high school graduation requirements.
Career Dual Enrollment opportunities are open to all Broward County full time high school students, age 16 years or older and who have completed at least 11 credits. If your home address and your assigned home high school is north of Sunrise Boulevard, transportation may be available to you.  Some programs require that you provide your own transportation.  Prospective students should see their home high school counselor to discuss Career Dual Enrollment options.
After reviewing the Admissions Brochure and you feel ATC's Career Dual Enrollment program is right for you, please complete the following:
Attend a CDE Orientation
Submit a completed application signed by your parents and guidance counselor
Take the CDE Minimum Basic Skills Test
Meet with a program counselor at Atlantic Technical College to review your test scores
All of the above components must be completed before you can be considered as a candidate for Career Dual Enrollment.
All documents may be downloaded by clicking the links to the left.
Contact Hallema Collier, Career Dual Enrollment Liaison, for more information
754-321-5307 [email protected]