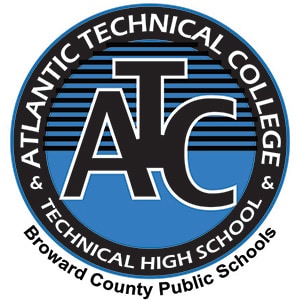 Career Dual Enrollment
Earn your high school diploma, complete a technical program, obtain an industry credential or license, and earn college credit all while in high school. Atlantic Technical College (ATC) can help you meet these goals and prepare you for your future. As a Career Dual Enrolled (CDE) student, you will share your day between ATC and your home high school. This means you will be able to complete an industry approved, high-skill, high-wage technical program while you are completing high school graduation requirements at your home high school.
Career Dual Enrollment opportunities are open to all Broward County full time high school students, age 16 years or older and having earned at least 11 credits. Transportation may be available to and from your home high school to Atlantic Technical College. Prospective students should see their home high school counselor to discuss Career Dual Enrollment options.
If ATC's Career Dual Enrollment program is right for you, please review the Admission Brochure and submit the CDE Application so you can get started today. All documents may be downloaded by clicking on the links below.
You want every opportunity to be successful and graduate with more than just a high school diploma! Apply today and be workforce and college ready before you graduate high school!
Contact Rosemary Petrill, Career Dual Enrollment Liaison, for more information
754-321-5305 rosemary.petrill@browardschools.com
So……….What's in your future?
Application Brochure: Click here for BCPS High School Student CDE Application
Programs Available: Click here for Program Selection
Orientation & Testing Schedule: Click here for Career Dual Enrollment Orientation and Testing Schedule
Information for Private School &Home Education Students: Click here for Private School & Home Education CDE Criteria
Adobe Reader is required to view the pdf files above. If you do not already have Adobe Reader, click on the icon below.