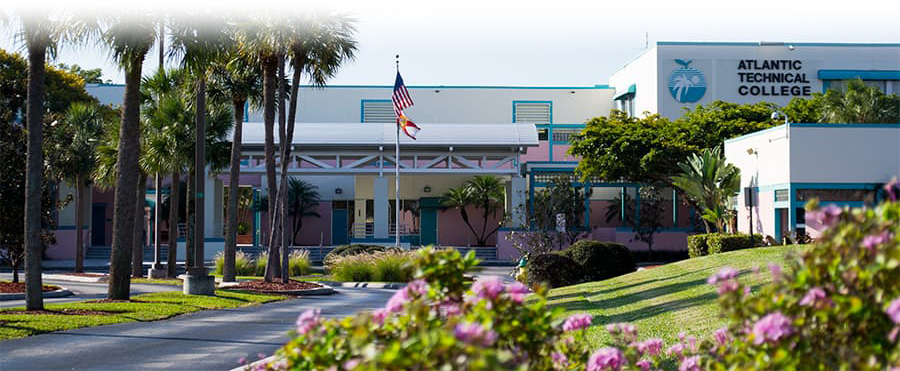 About ATC
Located on a beautifully landscaped, thirty-acre campus in Coconut Creek, Florida, Atlantic Technical College is a public, secondary and post-secondary institution operating under the authority of the School Board of Broward County, Florida, and the Florida Department of Education.
Welcome from the Director
On behalf of the entire faculty, staff and student body of Atlantic Technical College and Technical High School, welcome to our campuses and to the many educational programs and opportunities that we offer. Our mission is to assist you in any way possible to achieve your academic and career goals.
We offer 35 challenging instructional programs in high wage, high skill and high demand occupations, a full complement of apprenticeship programs, adult academic programs for individuals looking to pursue their high school diplomas and/or improve English language skills and so much more. All of the career and technical programs are aligned with state and national standards. You will have the opportunity to earn industry-recognized credentials and articulated college credit to our state college system upon successful completion of your program.
We look forward to working with you and wish you the very best in achieving your goals!
Neeta Rancourt, Director
[email protected]
754-321-5100
The History of Atlantic Technical College
ATC first opened its doors in August 1973 to 450 students in 11 programs of instruction. Over the years, four major construction phases have been added to help the center keep pace with program expansion, community growth, and labor market demands. Today, more than 4,300 students attend classes offered days, evenings, and Saturdays.
The twenty buildings and the portables on campus house classrooms, labs, offices, and support services for over 30 Certificate and Applied Technology Diploma programs, many continuing workforce education courses, and the Magnet High School . Programs are concentrated in 7 high-demand occupational clusters:
Architecture & Construction
Business Management & Administration
Health Science
Hospitality & Tourism
Information Technology
Manufacturing
Transportation, Distribution & Logistics
For those who want to "earn-as-they-learn," ATC provides cooperative training opportunities in many programs and coordinates the largest apprenticeship training program in the state.
Technical Magnet High School
Designated a National Model School by the
International Center for Leadership in Education
Atlantic Technical High School's unique design allows students to become immersed in a rigorous and challenging learning environment, while capturing their interest in a variety of career focused electives. Students will earn a diploma with credentials surpassing the state requirements in academics, enabling them to be competitive in the college admission process. Technology is integrated into every aspect of the educational program fostering an innovative learning environment. Teachers encourage critical thinking, and employ diverse teaching methodologies. Small class size allows for personalization among students, teachers and parents. In addition, students have the opportunity to earn certification in a technical program of study. Atlantic offers a wide array of technical programs from which students select their junior and senior year electives. The program selection process is thorough and precise, enabling all students to make informed choices.
The school design is based on the philosophy of Coalition of Essential Schools and High Schools That Work, two nationally recognized educational reform models of excellence.
The mission of Atlantic Technical College's Technical Magnet High School is to promote excellence in academic, career and technical studies.