Information Technology
Cloud Computing
& Virtualization
Be part of the exciting IT industry!
The Cloud Computing & Virtualization program prepares students for entry-level employment as a Cloud Support Specialist, Cloud Technician, Network Support Technician or provides supplemental training for people previously or currently employed in networking support occupations seeking to update their skills. Students gain technical expertise in core cloud design and infrastructure, using cloud technologies, and prepares them to monitor, and maintain virtual computer networks. The curriculum is delivered through instructor-led classes, knowledge assessments, and real-world hands-on labs. Students will also have access to course manuals, online knowledge assessments, and a free practice certification exam.
ATC is an AWS Academy Member Institution, and through this program, students are prepared to take the AWS Certified Cloud Practitioner certification exam. AWS Academy courses help students develop in-demand cloud computing skills by providing hands-on experience in the AWS Cloud and lessons based on actual industry scenarios. AWS Academy courses and learning resources are aligned to industry-recognized AWS Certifications.
These courses include a solid understanding of cloud computing concepts, Amazon Web Services (AWS), security, architecture, pricing, and support.
Courses are developed and maintained by AWS and taught by AWS Academy accredited educators. To become accredited, educators go through rigorous professional training and achieve AWS Certification. Earn your Industry Certifications and develop hands-on skills to give you a competitive edge in the IT field.
Additional Skills Covered:
• CompTIA IT Fundamentals+ Certification Training
• CompTIA Cloud+ Certification Training
• Configure and Maintain Virtualization Server Platforms and Clients
• Computer Literacy
• Computer User Support
• Employability Skills and Portfolios
• Virtual Storage Configuration
• Configuration, Monitoring and Security Activities
• Microsoft Office
• Virtual Network Configuration
• Security in a Virtualized Environment
• AWS Certified Cloud Practitioner Training
• AWS Certified Solutions Architect – Associate Training
Industry Certification & State Credential Exams:
Students will be prepared to take an approved state and/or nationally recognized industry certification or licensure exam in their field of study. Exam costs are additional; however, you may qualify for reimbursement of your exam cost(s) upon passing. See your program counselor/advisor for more information.
College Credit Transfer Opportunity and/or Advanced Standing:
Upon completion of the program and meeting eligibility requirements, including the attainment of an aligned industry certification, students may be awarded credits toward an Associate Degree by Broward
College. Students must enroll within two (2) years of completing the program at Atlantic Technical College. Additional college credit may be awarded with the attainment of additional industry certifications.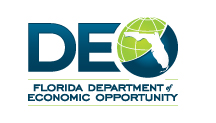 Job Outlook:
For information regarding Cloud Computing & Virtualization salaries/wages, visit floridajobs.org.
Program Length:
900 hours (approximately 10 months – full time; 20 months – part time)
Program Offered:
August, January & June
Delivery Method:
Traditional – 100% classroom based
Days & Times:
Traditional
Monday – Friday
7:05 a.m. – 1:50 p.m.

Monday – Friday
7:05 a.m. – 10:05 a.m.