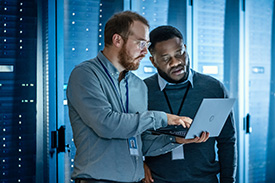 Cloud Computing & Virtualization
Program Length:
900 hours (approximately 20 months – part time)
Program Offered:
August, January & June
Delivery Method:
Traditional – 100% classroom based
Days & Times:
Monday – Friday   7:05 a.m. – 10:05 a.m.
Course Content:
The Cloud Computing & Virtualization program prepares students for entry-level employment as a Cloud Support Specialist, Cloud Technician, Network Support Technician or provides supplemental training for people previously or currently employed in networking support occupations seeking to update their skills. The program prepares students to create, monitor, and maintain virtual computer networks and design cloud-based solutions. Core cloud design and infrastructure will be covered to implement solutions to deploy and maintain virtualized clients. Laboratory activities are an integral part of this program. Earn your Industry Certifications and develop hands-on skills to give you a competitive edge in the IT field.
Additional Skills Covered:
A+ Certification Training
Business and IT Fundamentals
Install and Configure Virtualization Server Platforms and Clients
Computer Literacy
Computer User Support
Employability Skills and Portfolios
Virtual Storage Configuration
Installation and Configuration Activities
Microsoft Office
Virtual Network Configuration
Security in a Virtualized Environment
Industry Certification & State Credential Exams:
Students will be prepared to take an approved state and/or nationally recognized industry certification or licensure exam in their field of study.
To get started in the Cloud Computing & Virtualization program, Sign Up Today for the program orientation!
Advisor: [email protected]
Job Outlook in the South Florida Tri-County Area:
According to the Florida Department of Economic Opportunity, the current South Florida Tri-County entry annual salary range for Cloud Computing & Virtualization positions is approximately $33,100 – $54,800.  Actual wages may vary according to education, certifications, and experience.