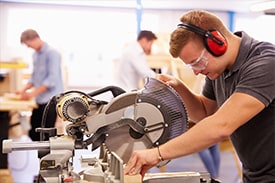 Get Started on Your Career Path Today!
| | |
| --- | --- |
| Step 1 - | Attend a Program Specific Orientation |
| Step 2 - | Basic Skills Testing |
| Step 3 - | Complete an Application |
| Step 4 - | Apply for Financial Aid (Optional) |
| Step 5 - | Request Disability Services (Optional) |
| Step 6 - | Complete & Upload Required Documents |
| Step 7 - | Counselor Interview |
| Step 8 - | Registration & Enrollment |
Carpentry
Program Length:
1200 hours (approximately 12 months – full time)
Program Offered:
August & January
Delivery Method:
Traditional – 100% Classroom based
Days & Times:
Monday – Friday  7:05 a.m – 1:50 p.m
Course Content:
The Carpentry program prepares students for employment in the Construction and Manufacturing industries by teaching the skills of cutting shaping and installing building materials during the construction of buildings, ships, timber bridges, concrete formwork, and so much more.  Specialties within the carpentry field, such as rough, finish, trim, framing and formwork will be explored.
Carpentry students will experience all facets of the carpentry trade including: planning; management; finance; technical and production skills; underlying principles of technology; labor issues; community issues; and health, safety and environmental issues.
Additional Skills Covered:
Architectural & Engineering Measurement and Scale Drawing Techniques
Blueprint Reading and Code Interpretations
Building Construction Codes
Carpentry (Rough and Finish) Skills
Concrete Form, Place and Finish Techniques
Estimating Job Costs, Including Labor and Materials and Bidding Skills
Floor, Wall, Stair and Roof Calculations, Layout and Framing Skills
OSHA Safety Standards
Painting applications & finish techniques
Residential and Commercial Construction Techniques
Roofing Systems
Safety procedures for the use of power tools, hand tools and other equipment
Site Layout and Surveying Skills
Industry Certification Exam & State Credential:
Students will be prepared to take an approved state and/or nationally recognized industry certification or licensure exam in their field of study.  Students who successfully earn the NCCER Carpentry 1 & 2 certifications may be eligible to enter the Carpentry Apprenticeship program at an accelerated level.
College Credit Transfer Opportunity and/or Advanced Standing:
Upon completion of the program and meeting eligibility requirements, including the attainment of an aligned industry certification, students may be awarded credits toward an Associate Degree by Broward College or the Florida College System.  Students must enroll within two (2) years of completing the program at Atlantic Technical College. Additional college credit may be awarded with the attainment of additional industry certifications.
For more information on the Carpentry program, sign up today for a program orientation!
Advisor: vdhumphrey@browardschools.com.