Transportation, Distribution & Logistics Programs
Avionics Systems
Technician
Be part of the exciting aviation industry!
Enroll in our Avionics Systems Technicians program today. Avionics Systems Technicians are specialists who repair and maintain a plane's electronic instruments, such as radio communication devices and equipment, radar systems, and navigation aids. Avionics is a specialization within electronic maintenance and repair. It focuses on aircraft electronics, but encompasses a wide range of job types. An avionics technician is a specialist who is responsible for all the electronics aboard an aircraft as well as the wiring that connects to the electrical system. They run cables, mount antennas, and connect instruments for navigation and engine monitoring. Avionics technicians install radios, autopilots, and passenger entertainment systems. The job demands attention to detail and a commitment to the very highest standards of quality workmanship because they work on flight-critical systems that impact passenger and crew safety.
Avionics Systems Technicians:
Assemble components, such as electrical controls and junction boxes, and install software
Install instrument panels, using hand tools, power tools, and soldering irons
Interpret flight test data to diagnose malfunctions and performance problems
Keep accurate records of maintenance and repair work
Repair or replace malfunctioning components
Test electronic instruments, using circuit testers, oscilloscopes, and voltmeters
Industry Certification & State Credential Exams:
Students will be prepared to take one or more approved state and/or nationally recognized industry certifications or licensure exams in their field of study.
College Credit Transfer Opportunity and/or Advanced Standing:

Upon completion of the program and meeting eligibility requirements, including the attainment of an aligned industry certifications, students may be awarded credits toward an AS/AAS Degree by Broward College or the Florida College System. Students must enroll in Broward College within two (2) years of completing the program at Atlantic Technical College. Additional college credit may be awarded.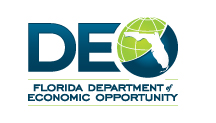 Job Outlook:
For information regarding Avionics Systems Technician salaries/wages, visit floridajobs.org.
Program Length:

1200 hours/approx. 12 months – full time
Program Offered:
January
Delivery Method:
Traditional – 100% classroom based
Days & Times:

Traditional
Monday – Friday
7:05 a.m. – 1:50 p.m.