Information Technology
Applied Information Technology
Be part of the exciting IT industry!
This program prepares students for a variety of careers in the IT area.  The content includes, but is not limited to, computer application skills including computer hardware, software applications, systems support and maintenance, and network concepts.
After successfully completing this program the student will be able to perform computer support services tasks and be prepared to enter a specialized Information Technology career cluster program at an advanced, accelerated level.
Additional Skills Covered:
Computer Networking Skills
Employability Skills
Introduction to Information Technology
IT and Web Systems
Problem Diagnosis and Resolution
Industry Certification & State Credential Exams:
Students will be prepared to take an approved state and/or nationally recognized industry certification or licensure exam in their field of study.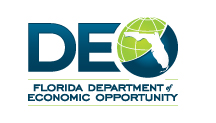 Job Outlook:
For information regarding Applied Information Technology salaries/wages, visit floridajobs.org.
Program Length:

600 hours (approximately 6 months – full time; 12 months – part time)
Program Offered:
August, January & June
Delivery Method:
Traditional – 100% classroom based
Hybrid – Less than 100% of instructional hours via distance education (online)
Days & Times:

Blended Distance
with mandatory on-campus labs and finals:
Distance
Monday, Tuesday, Wednesday, Friday
On-campus Lab
Thursday
5:30 p.m. – 8:30 p.m.