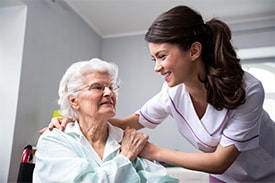 Patient Care Technician
---
Program Length:
600 hours (approximately 6 months – full time)
Program Offered:
January
Delivery Method:
Traditional – 100% classroom  based
Days & Times
Monday – Friday     7:05 a.m. – 1:50 p.m.
Course Content:
The Patient Care Technician is a multi-skilled healthcare worker who, under the direction and supervision of a Registered Nurse, carries out the essential basic bedside nursing functions.  The Patient Care Technician comes in direct contact with the patient in the performance of his/her assigned duties.  Students also receive supplementary training in 12-lead EKG, basic phlebotomy techniques and restorative skills.
Additional Skills Covered:
Anatomy & Physiology
Bloodborne Diseases HIV/AIDS, HBV
Communication & Interpersonal Skills
Computer Literacy
CPR, BLS Healthcare Provider
Documentation
Domestic Violence, HIPPA, Legal & Ethical Responsibilities
EKG Modalities
Emergency Care
Employability Skills & Career Counseling
Home Health Care
Infection Control Procedures
Math & Science Skills
Medical Errors
Medical Terminology
Nursing Assistant Skills
Phlebotomy Procedures & Protocol
Safety and Security Procedures
Wellness & Disease Concepts
Industry Certification & State Credential Exam
Upon successful completion of Nursing Assistant Skills component, the student will be eligible to take the State Certified Nursing Assistant Certification Examination.  This is an excellent course for students who have no previous medical experience and who wish to enter the healthcare field.
IMPORTANT NOTE REGARDING REGISTRATION:
Registration processes for Health Science classes vary by program. For information specific to Patient Care Technician, please e-mail the counselor, [email protected]
*NOTE:
Students enrolling in any Health Science Education program must undergo a Level II criminal background check and drug screening, per The Joint Commission. Students who do not have a valid social security number may encounter difficulty with certain state licensing agencies and registries. Contact the program counselor for specific information. Students with questions or concerns should contact Ruth Eloi, the program Counselor by e-mail at [email protected] or by phone at 754-321-5187.
Job Outlook in the South Florida Tri-County Area:
According to the Florida Department of Economic Opportunity, the current South Florida Tri-County entry annual salary range for Patient Care Technician positions is approximately $21,000 – $29,800.  Actual wages may vary according to education, certifications, and experience.