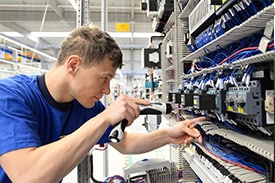 Get Started on Your Career Path Today!
| | |
| --- | --- |
| Step 1 - | Attend a Program Specific Orientation |
| Step 2 - | Basic Skills Testing |
| Step 3 - | Complete an Application |
| Step 4 - | Apply for Financial Aid (Optional) |
| Step 5 - | Request Disability Services (Optional) |
| Step 6 - | Complete & Upload Required Documents |
| Step 7 - | Counselor Interview |
| Step 8 - | Registration & Enrollment |
Electricity
---
Program Length:
1200 hours (approximately 12 months – full time)
Delivery Method:
Traditional – 100% classroom based
Days & Times:
Monday – Friday           7:05 a.m. – 1:50 p.m. (full-time)
Monday – Thursday     6:00 p.m. – 9:45 p.m. (part-time)
Course Content:
Learn basic electrical principles, residential wiring, commercial wiring, trouble diagnosis and repair procedures, the use of tools of the trade for installations and trouble-shooting; blueprint reading; interpretation of electrical symbols; splicing and connecting wires, installation of conduit, and safe work practices.  Program content also includes building and wiring codes, including the National Electrical Code. Emphasis is placed on skill development, and much of the program is project based.
Special Note:
With additional successful testing, the completion of this program may be used as a substitute for the first year of an Electrical Apprenticeship Program.
Additional Skills Covered:
Alternating Current Theory
Basic Electrical Theory
Blueprint Reading
Commercial Circuits
Conduit Bending
Direct Current Theory
Employability Skills
Entrepreneurship
General Wiring Skills
Motor and Electrical Controls
Residential Circuits
Safety
Test Equipment
Wiring Diagram Reading Skills
Industry Certification & State Credential Exams:
Students will be prepared to take an approved state and/or nationally recognized industry certification or licensure exam in their field of study.
College Credit Transfer Opportunity and/or Advanced Standing:
Upon completion of the program and meeting eligibility requirements, including the attainment of an aligned industry certification, students may be awarded credits toward an Associate Degree by Broward College. Students must enroll within two (2) years of completing the program at Atlantic Technical College. Additional college credit may be awarded with the attainment of additional industry certifications.
To get started in the Electricity program, Sign Up today for a program orientation. Or contact the counselor at [email protected]

Job Outlook in the Ft. Lauderdale area:
Demand for Electricians is expected to grow about 2%* between 2015 and 2022
Entry level wages for Electricians are about $15/hour**. Actual wages vary according to education, experience and certifications.
* Bureau of Labor Statistics
**The Florida Department of Economic Opportunity