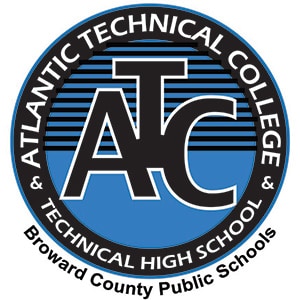 GED® Test Preparation
---

Congratulations on your decision to take your education to the next level by pursuing your GED® Diploma. The GED® Test measures high school level skills and knowledge. Obtaining your GED® Diploma will not only open doors in a number of ways, but also helps to prepare you for your next steps in either a post-secondary educational program or career of your choice.
At Atlantic Technical College, our instructors are highly qualified and will offer you the targeted instruction that you need to complete your GED® Diploma as quickly as possible. Our face-to-face and online instruction provides flexibility that fits your lifestyle. We are a caring staff who are dedicated to you as a student and professional. In fact, at Atlantic Technical College, we will not only prepare you for the information and skills that you will need to pass the test, we will also provide you with the official GED® practice test (GED®Ready) FREE of charge. We are here to help you succeed, so come on in and talk to one of our staff persons today. Find out how we can help you reach your goals!
Click Here for an information flyer on the Atlantic Technical College GED® Test Preparation program.
You can also email the counselor at doris.gonzalez@browardschoolscom.
Here are a few questions that are frequently asked about GED®:
Where can I register for the actual GED® test?
The GED® Test is now completely computer-based. The paper/pencil version is no longer available. Test registration can be done 24/7 online at www.GED.com. Candidates will select a convenient testing site based on the list of local official PearsonVue GED® testing centers. Atlantic Technical College hosts two official testing sites: one at our main campus in Coconut Creek, and the other at our Arthur Ashe, Jr. branch campus in Fort Lauderdale. You can schedule the tests one at a time, or you can combine tests. As a student of Atlantic Technical College, our instructors will provide you with the information, skills and counseling that are right for you.
What if I need practice to prepare for the test?
Most candidates will need instructional preparation for the GED® Test. The new demands of this assessment will require college and career readiness skills that our instructors will empower you with – no matter what your strengths and areas of growth may be. Teachers and counselors at Atlantic Technical College provide comprehensive instruction in the areas of writing/reading, social studies, science, and mathematics. These academic programs help students obtain a GED® diploma and acquire the skills needed to be successful in post-secondary education programs and the workforce. To start this process, simply come in to the Office of Admissions to register for the Test of Adult Basic Education (TABE) for a small fee of $10. We will use your test scores to determine the best class placement to get you to your goal of passing the Official GED test.
How much does the GED® test cost?
The testing fee is $32.00 per subject in the four tested subjects: Reasoning Through Language Arts, Mathematical Reasoning, Science and Social Studies which is a total of $128.00 for the first time that you test. A candidate can make a second and third attempt on any of the four GED® sub-tests for $12.00 per subject. After the third unsuccessful attempt on the same subject, the candidate must wait 60 days before testing again and the cost is $32.00. Every unsuccessful attempt thereafter, candidates must wait 60 days and pay $32.00 per subject.
How do I get my test results?
Once you take the GED® Test at an Official Testing Center, your scores will be calculated and uploaded to your account on www.GED.com. Once you pass the entire test, your official GED® transcript and diploma will be e-mailed to you free of charge (one hard copy can be ordered via the GED® Web site at no charge).
What is the process for underage candidates?
Underage (16 and 17 years old) Student Registration Requirements:
Anyone 18 years of age and older can take the GED® Test at any time. However, there is an underage policy for individuals who are 16 or 17 years old who have officially withdrawn from high school wish to take the GED® Test. In Broward County, underage individuals wishing to take the GED® Official Tests need to take the TABE assessment AND enroll in GED® Preparation Classes. Taking the TABE and enrolling in GED® classes prior to registering for the GED® Official Tests is required and cannot be waived by test registration personnel at Atlantic Technical College. In addition to taking the TABE and enrolling GED® classes at Atlantic Technical College, the following is required for underage test candidates:
Provide proof of Official High School Withdrawal.
Provide proof of passing scores on the Official GED® Practice Test. You must be enrolled in a GED® preparation class in any Adult, Community or Technical School in Broward County and thereby take the Official GED® Practice Tests. (Meet with a GED® Advisor for more information.)
Complete the Underage GED® Testing application which must be notarized and signed by a legal guardian. This form will be provided from your instructor.
Complete the Testing Eligibility Exception form that you will receive by email once you begin the registration process for the Computer Based GED® Test.
Submit all 4 documents to your GED® Advisor to begin the approval process.
Are there accommodations for disabilities on the GED® Test?
Special testing accommodations are available to eligible candidates. To request a special accommodation on the GED® Test, the candidate will register on www.GED.com and indicate intent to apply for accommodations. At that point, the GED® Testing Service will email the student a link to the accommodation request forms and information about accommodations. Make sure to review the documentation guidelines carefully. Once received by the GED® Testing Service, a student will be notified via email of the review outcome and next steps within 30 days. For assistance in requesting the accommodations, you should meet with the GED® Advisor at Atlantic Technical College.
The Council on Occupational Education (COE) does not accredit avocational programs such as ESOL, ABE, GED®, or AAAE.  In addition, these programs do not qualify for Title IV financial aid assistance.