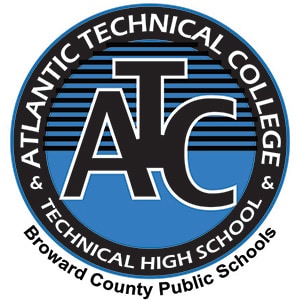 Ready To Work Testing Information
What is the process for earning a Ready to Work Credential?

Sign up for a temporary user ID and password in Building 10, the Office of Student Affairs at Atlantic Technical College, 4700 Coconut Creek Parkway, Coconut Creek.  Once pre-registered, you will be provided with a temporary user ID and password.  YOU WILL NEED A SOCIAL SECURITY NUMBER TO REGISTER.

Office of Student Affairs Hours are:
Monday – Thursday:  7:00 am – 6:00 pm
Friday: 7:00 am – 4:00 pm


Once you have your temporary user ID and password, go to floridareadytowork.com, click on the Student/Job Seeker Login to complete your registration and take the placement pre-tests in Reading for Information, Applied Mathematics, and Locating Information.
A score of 3 or more on the pre-tests indicate that you are ready to take the Ready-to-Work assessment.  To register for the Official Test call (754) 321-5147 Monday through Friday between 7:30 am and 3:00 pm. You must e-mail proof of your pre-test passing scores to James.Zapasnik@browardschools.com or fax them to (754) 321-5380, Attention: James Zapasnik.
On your testing day, bring your photo ID (Testers must have ONE of the following picture ID's to test:  valid Florida Drivers' License, valid Green Card, valid Passport, valid Florida ID, and/or a valid Military ID, and go to the Ready to Work Testing Center at Atlantic Technical College, 4700 Coconut Creek Parkway, Building 19, Room 279 and take the final proctored assessments. Please allow 3 ½ hours for testing.
Score a minimum of 3 on all assessments and receive your certificate, signed by Governor Rick Scott. You may retake the assessments to achieve a higher level certificate at anytime.
Technical requirements for using the Ready to Work Web site:
The first time you log on you may be prompted to install Authorware Web Player by Macro Media, Inc.
Internet Explorer or Safari for Apple users, are the recommended browsers and use ActiveX controls for the software. ActiveX controls can be downloaded and installed without user intervention or the need to close the browser.
Netscape or Mozilla browser users must download the software to the system and then be installed like many other applications.
Authorware Web Player is automatically downloaded when WIN is first executed.
You will need to download Adobe Acrobat Reader if you do not have it. Adobe will let you read .pdf files. It is a free download. Click here https://www.adobe.com  to go to the Adobe Web site if you need the download.