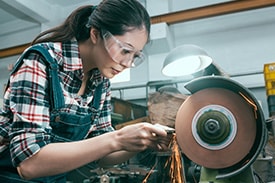 Program Length:
1500 hours (approximately 14 months – full time)
Course Content:
Students will learn how to set up and operate the following types of machines: contour saw, drill press, lathe, milling machine grinder, and CNC (Computerized Numerical Control) machines. Instruction also includes the use of precision measuring instruments such as, layout and inspection tools, micrometers, and gauges.  CNC programming, use of CAD/CAM (Computer Aided Design/Computer-Aided Manufacturing) processes, and set up and performance of advanced level machining operations is taught. Related trade math and blueprint reading are part of the program and are used extensively in laboratory activities.  The machinery and materials used are those commonly found in the machine tool industry. Instruction is provided in safe practices, which are critical in this industry, and the use of tools, equipment, materials and processes found in the machining industry.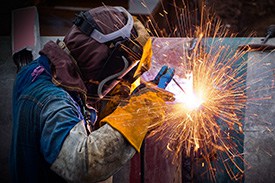 Program Length:
1050 hours (approximately 11 months – full time)
Course Content:
Students will work in a specialized classroom and practical laboratory learning how to cut and join metal parts through the application of arc welding. Instruction includes: selection of proper torch tips; adjustment of gas pressure and flame according to the size and characteristics of metal; selection of proper electrodes; adjustment of voltage and current for the type of metal; flame cutting, and use of equipment introducing a shield of inert gas (MIG-TIG & FCAWP), around the electric arc to prevent oxidation. Instruction also involves classroom and practical experiences to teach students to fabricate and weld joints and perform fabrication in the basic area of welding. Related instruction in blueprint reading and layout is included as an integral part of the program. Safety instruction is provided throughout the program and safe practices and procedures are stressed in all lab situations.