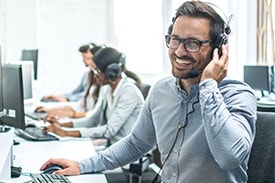 Customer Assistance Technology
---
Program Length:
450 hours (approximately 4 months – full time, 8 months – part time)
Program Offered:
August, January & June
Delivery Method:
Distance – 50% or more instructional hours via distance education (online)
Days & Times:
100% Distance – with mandatory Virtual Meeting Days
Distance:  Monday, Tuesday, Wednesday, Friday
Virtual Meeting Days: Thursday, 5:30 p.m. – 8:30 p.m.
Course Content:
Students will be qualified for high demand positions across multiple industries such as Computer User Support Specialists, Technical Support Specialist, Customer Care Specialist, or IT Support Specialist.   Students will also have the opportunity to earn an industry credential as a Microsoft Office Specialist and/or CIW Internet Business Associate.
The content focuses on information technology, interpersonal skills, business communication including reading, writing, speaking, and listening, leadership, decision making, problem solving, supervision, career planning, employability skills, diversity awareness, telephone techniques, and technical applications in the customer care environment. Students gain hands-on experience with essential software applications for word processing, presentations, spreadsheets, databases, electronic mail using Microsoft Office 2016.
Additional Skills Covered:  
Basic Business Financial Principles
Call Center Operations and Telephone Techniques
Career Planning and Personal Finance
Decision Making and Problem Solving
Internet and Cloud-Based Technologies
Teamwork and Diversity Awareness
Technology Support Fundamentals
Understanding Network and Email Configurations
Using Databases for Web Search Engines
Using the Web for Multimedia
Industry Certification & State Credential Exams:
Students will be prepared to take an approved state and/or nationally recognized industry certification or licensure exam in their field of study.
To get started in the Customer Assistance Technology program, Sign Up Today for the program orientation!
Advisor: [email protected]
Job Outlook in the South Florida Tri-County Area:
According to the Florida Department of Economic Opportunity, the current South Florida Tri-County entry annual salary range for Customer Assistance Technology positions is approximately $25,400 – $33,100.  Actual wages may vary according to education, certifications, and experience.